Per
www.letsgokings.com-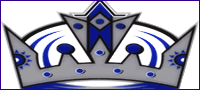 VS.
Game Time: 7:30 PM PST | 10:30 PM EST
Location:Staples Center | Los Angeles, CA
TV Broadcast:
FSNW
Radio Broadcast:
1150 AM
Online broadcast:
NHL Radio



Brent Sopel was named the #2 Star of the Day by the NHL for his excellent play on Monday
Mathieu Garon now holds the leagues best GAA with 1.72
The Penguins are 3-9 in their last 12 vs. Pacific Division opponents
Evgeni Malkin will try to become the first player in 89 years to open his career with goals in six straight games
The Kings have beaten or tied the Penguins in their last 8 meetings
The Penguins last beat the Kings on 1/16/1999
Dan Cloutier is 5-1 with a tie and a 2.27 goals-against average in his career against the Penguins
The Kings travel to Phoenix on Saturday to do some Coyote hunting
"This is the way we have to play every night. We have to play with hard work. This is the best league in the world, and if you don't work hard you're not going to get the wins. Lately we've been working hard and not getting the bounces - but tonight we did. We have so many shots that didn't go in the last couple games, it was nice to bury one and give us the lead." – Brent Sopel
"We know we can battle these good teams. What we have to do is do it again. We know we have a good team." – Alexander Frolov
"Sometimes it has to get a little worse before it gets better. We did a lot of things right in the last two games…. Today it paid off. Today we got bounces from hard work. It's not like we did something different or better." – Mattias Norstrom
"We talked about them being a better team than their record indicated. They came out and had a great first period and we didn't start playing until the second period. But by then they had built a significant lead. The penalties were a reflection of us not being ready to play." – Brendan Shanahan
"I was challenging (Alexander Frolov) to pay attention to detail and stick to things. Fro is a pretty deep thinker, and he had mentioned before that he had read 'War and Peace' twice. What better example can you have of stick-to-itiveness and attention to detail and not quitting than reading that book?
I said if Fro showed more determination on the puck, I'd read it. I'm on Page 250 and I'm wondering if I can buy my way out of this." – Dean Lombardi
Kings
Petiot (knee) IR
McCauley (knee) IR
Penguins
Malone (forearm) IR
Orpik (hand) IR
Petrovicky (hip) IR