http://bleacherreport.com/articles/2...envers-chances
Where the Colts are the better team remains a mystery. The Broncos have the better quarterback, the better running back, a better group of wide receivers (even with
Wes Welker
suspended
) and a much better offensive line. With the Colts' Robert Mathis
suspended
this week, the Broncos clearly have the better group of pass-rushers. Their linebackers and secondary are also better than what Indy has to offer.
There's a possibility this game comes down to the wire (Brandon McManus game-winning kick anyone?), but the Broncos would have to play a mistake-filled game for that to happen.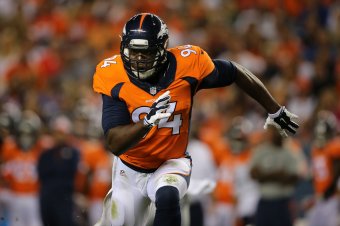 Doug Pensinger/Getty Images
If Denver plays up to its potential—with a few speed bumps along the way—it should be able to easily take care of business at home.
<table><caption>Colts vs. Broncos Picks</caption> <tbody><tr class="odd"> <td class="">Expert</td> <td class="">Affiliation</td> <td class="">Pick</td> </tr> <tr class="even"> <td class="">Pete Prisco</td> <td class="">CBS Sports</td> <td class="">Broncos</td> </tr> <tr class="odd"> <td class="">Jason LaCanfora</td> <td class="">CBS Sports</td> <td class="">Broncos</td> </tr> <tr class="even"> <td class="">Will Brinson</td> <td class="">CBS Sports</td> <td class="">Broncos</td> </tr> <tr class="odd"> <td class="">Gregg Rosenthal</td> <td class="">NFL Network</td> <td class="">Broncos</td> </tr> <tr class="even"> <td class="">Marc Sessler</td> <td class="">NFL Network</td> <td class="">Broncos</td> </tr> <tr class="odd"> <td class="">Chris Wesseling</td> <td class="">NFL Network</td> <td class="">Broncos</td> </tr> <tr class="even"> <td class="">Mike Garafolo</td> <td class="">Fox Sports</td> <td class="">Broncos</td> </tr> <tr class="odd"> <td class="">Alex Marvez</td> <td class="">Fox Sports</td> <td class="">Broncos</td> </tr> <tr class="even"> <td class="">Brendon Ayanbadejo</td> <td class="">Fox Sports</td> <td class="">Colts</td> </tr> <tr class="odd"> <td class="">Vinnie Iyer</td> <td class="">Sporting News</td> <td class="">Colts</td> </tr> <tr class="even"> <td class="">Bleacher Report Experts</td> <td class="">Bleacher Report</td> <td class="">Broncos</td> </tr> <tr class="odd"> <td class="">Adam Schefter</td> <td class="">ESPN</td> <td class="">Broncos</td> </tr> <tr class="even"> <td class="">Mark Schlereth</td> <td class="">ESPN</td> <td class="">Broncos</td> </tr> <tr class="odd"> <td class="">Chris Mortensen</td> <td class="">ESPN</td> <td class="">Broncos</td> </tr> <tr class="even"> <td class="">Ron Jaworski</td> <td class="">ESPN</td> <td class="">Broncos</td> </tr> <tr class="odd"> <td class="">Mike Florio</td> <td class="">Pro Football Talk</td> <td class="">Broncos
</td></tr></tbody></table>