HOF coach Chuck Noll, who won 4 Super Bowls, dies at 82

By Josh Katzowitz | NFL Writer
June 13, 2014 11:44 pm ET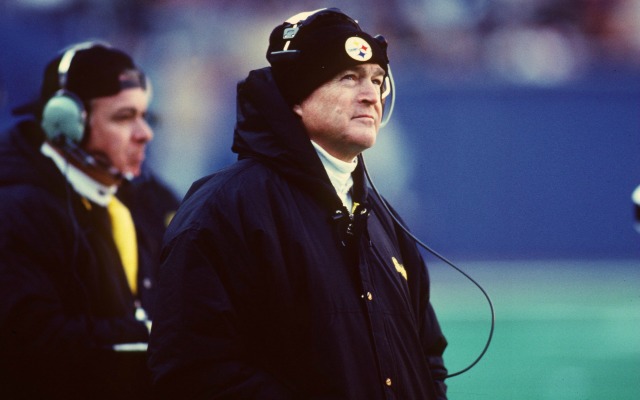 Chuck Noll won four Super Bowls in Pittsburgh. (Getty Images)
Chuck Noll, the Hall of Fame coach who led the Steelers to four Super Bowls in the 1970s, died Friday at the age of 82, according to numerous reports out of Pittsburgh, the Associated Press and CNN.
According to the Pittsburgh Tribune Review, Noll's wife, Marianne, found him unresponsive at 9:45 p.m. ET. She called 911, and paramedics pronounced him dead at 9:55 p.m.
Noll had stayed out of the public eye in recent years, because, as CNN writes, he had suffered from Alzheimer's and heart problems.
In 1969, he took over a Steelers squad that had produced only two winning seasons in the previous nine years, and Pittsburgh promptly went 1-13 in Noll's first season. But by 1972, Noll (along with quarterback Terry Bradshaw, a 22-year-old running back named Franco Harris and one of the NFL's best defenses) led Pittsburgh to an 11-3 record and the franchise's first playoff appearance in 25 years.
From 1972-79, the Noll led the Steelers to an 88-27-1 regular-season record without ever missing the playoffs and while winning Super Bowls IX, X, XIII and XIV. Overall, he sported a 209-156-1 record, and he was elected to the Hall of Fame in 1993.
"Chuck Noll is the best thing to happen to the Rooneys since they got on the boat in Ireland," Art Rooney Jr., the oldest son of Steelers founder Art Rooney Sr., once said, via the Trib Review.
Among those on Noll's coaching tree are Jerry Glanville, Tony Dungy and Broncos coach John Fox.
"I think he's the greatest guy I've ever been around," Fox said last February, via the Steelers official website. "He was very calm, very technique- and fundamental-oriented. He was not a screamer. He wasn't up or down. I think his biggest thing is that he was the same guy every day. He was not an ego guy like, 'Look what I'm doing.' He was a great mentor, I know that."
"Coach Noll was a tremendous technician in the individual fundamentals of football, which was something very important to him," Fox continued. "I still believe it comes down to blocking and tackling, even at this level. Sometimes, we lose sight of that with the schemes and stuff. I really think it's about staying even keel, not experiencing the highs and lows that a football season can bring to you. And really, the technique. Not so much the 'want to' but the 'how to' play football."