Seahawk Fans Myths are in green, now I live in WA and hear the radio its hilarious but its just the fans its even on ESPN and NFL Network so lets go over some common reoccurring myths those myths in green.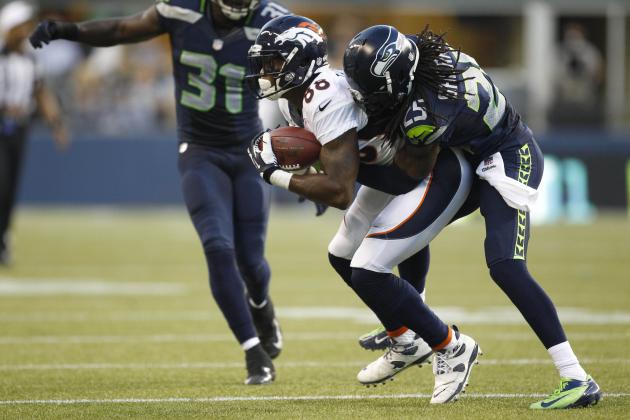 1. Wilson doesn't have to match points with Peyton because Peyton isn't gonna light it up.
Why do they believe this? Russell Wilson wont have to match points with Peyton, what are you basing this off of? Don't forget Andrew Luck had over 100 QBR on you guys, and wasn't picked off once when the Colts beat you. Oh yeah they scored 34 points the Colts averaged 24 points a game this season the Broncos averaged nearly 40 points a game. The Broncos are a wayyy better offense than the Colts. Ty Hilton smoked you guys for 140 yds guess what Demaryius Thomas is just as fast so get ready for that. You had trouble with Andrew Luck what you makes you think you can stop Peyton and the best offense in the history of the NFL?
2. The Broncos haven't seen a pass rush like ours. The Seattle defense matches up well with the Broncos offense. They can rush 4 and still get pressure.
The Patriots and Chiefs have a better pass rush, more sacks and they couldn't get to Peyton even when they blitzed so what makes you think just a 4 man rush can get to Peyton who has only been sacked 20 times in the season and 0 times this post season.
3. Their corners are way more physical than Decker & Thomas.
Decker and Thomas are two of the most physical WRs in the league and you dont think they are preparing to be extra physical. They said yesterday we gotta be more physical than them and both are 6'3 220+ so they certainly can do that also Julius Thomas 6'5 250 lbs going to be a tough cover for Seattle.
4. And you're not gonna hold beast mode...you haven't faced an RB like him all season either
Your right we have faced better RBs than him and we held them in check pretty damn good L. McCoy check the list goes on. Lynch is a physical back but he plays into our strength which is stopping the run at the line of scrimmage, we struggle more with speed and stretch guys like Ryan Matthews we excel at stopping the power backs. Will we completely shut him down? No probably not he might break one 15 or 20 yd run to make his total yds look better than it actually was but overall we should contain him.
5. Broncos haven't faced a mobile Qb all season. And on Wilson the fact of the matter is he's faced a top 10 defense TEN times this season and still has a 100 QB rating.
What are you talking about we have faced a mobile QB this season a few actually we faced Mike Vick, RG3, Alex Smith, Terrelle Pryor, and Andrew Luck. Also Wilson 100 QBR against a top 10 defense because he protects the football well hes a great game manager no doubt about it but hes going to have to continue to score points against the Broncos.
6. Because the Seahawks are the more physical...more battle tested team
More physical and battle tested team, how can you claim that based on what exactly?
7. We beat the Broncos in the preseason pretty good, and I think they know this and are scared because of this.
Preseason we talkin' bout preseason not a game not a game preseason. but since you wanna bring up the preseason lets not act like Peyton didn't have almost 200 yds passing and Demaryius had 53 yds, Julius had 70 yds just in the first half. Peyton was moving the ball quite easily but again lets not talk about preseason a meaningless game where we obviously didn't set up a game plan and Peyton played one half.
____________________
what are some of the myths you have heard this week?