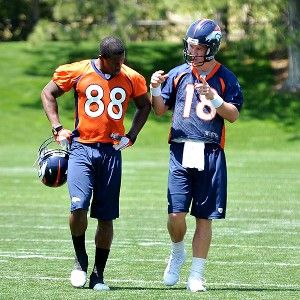 Demaryius Thomas is looking forward to the opportunity to catch passes from Peyton Manning.
He knows he has been granted the biggest gift of his football life. He must cash in on playing with Peyton Manning.
"Every time I make a mistake, I get mad at myself because I know Peyton is counting on me," Thomas said. "I have to be good. Peyton picked the Broncos, and I have to make him know he made the right choice."
Thomas shouldn't be so hard on himself. The allure of playing with Thomas is one of the reasons Manning chose Denver. Manning has often referred to Thomas as having special talent and said he expected Thomas to have a big impact.
Manning has a strong history of bringing along young receivers and expediting their learning curves. Thomas will be given the chance to fast-track his career.
Thomas does offer Manning a variation he has never worked with -- he's a huge receiver. At 6-foot-3, 236 pounds, Thomas offers mismatch possibilities that the masterful Manning should be able to exploit.
"Peyton tells me all the time he's never worked with someone like me," Thomas said. "I've watched a lot of film from his Colts' days to get some pointers. There really weren't any of his receivers who were like me. ... I know Peyton is looking forward to it."
For The Rest -
http://espn.go.com/blog/afcwest/post...-big-dividends