Abstracts are easy, fun and can be some of the coolest photoshop pictures an amateur can make. This is one of a series of abstract's I will be doing using a variety of standard filters and layer masks. You do not by any means have to use any of the settings I do, nor does your picture have to look like mine, remember, you are the graphic artist. Do what you think looks best.
Step 1: Open an image 600 by 600 pixels with a transparent background. Press SHIFT+D to get your default colors and fill the layer with a black background and go to Filter--> Render -->Difference Clouds. Do this two more times (CTRL+F twice).
Step 2: Filter-->Distory-->Rectangular To Polar Coordinates And you should have something like this: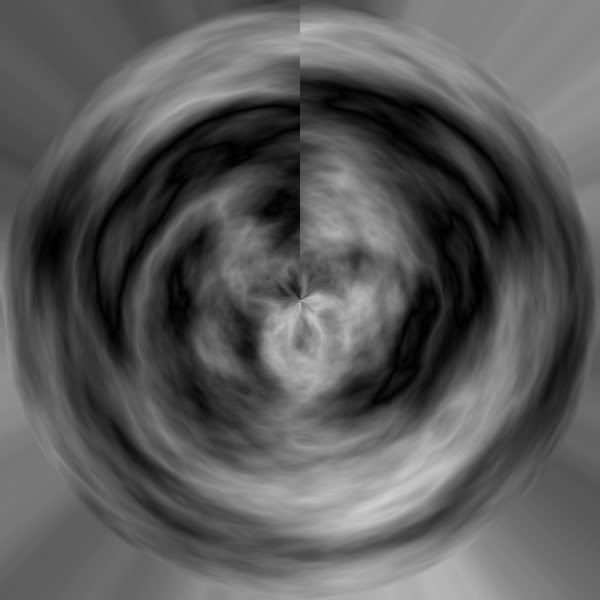 Step 3: Use the rectangular marquee tool and start from the bottom corner and select the bottom half of the image.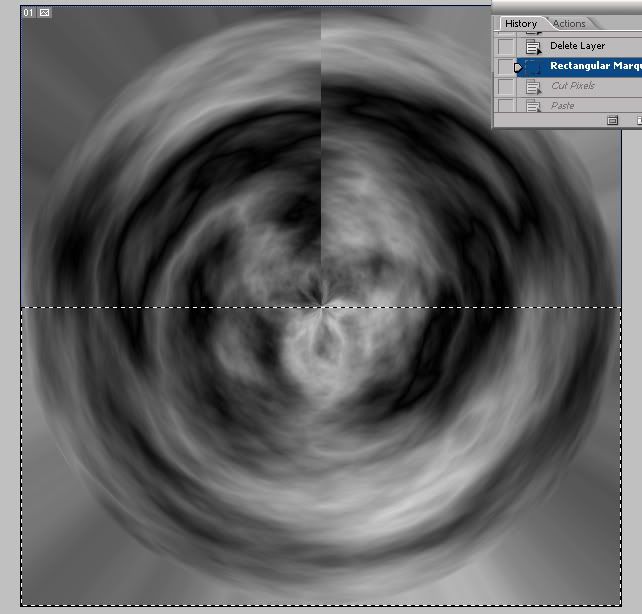 Now cut the selected area (CTRL+X) and then paste it back (CTRL+P). You should have two layers. The original layer needs to be deleted and the new layer you just pasted should be moved to the bottom of the screen lined up with the edges of the image.
Step 4: Now, duplicate the layer. On the duplicated layer go to layer transform (CTRL+T) and right click on the layer itself. Select "Flip Vertical" and press ENTER. Now, move the flipped layer up above and line it up. You should end up with something like this. Highlight the layer on top and merge it down (CTRL+E) into one layer. Now if you find that you have some space left up at the top you have the option to center your layer OR you can CTRL+LEFT CLICK on the layer in the layer window to select the whole thing, copy it (CTRL+C) and then open a new image (CTRL+N) and the dimensions of what is on the clipboard will be the default dimensions of the new image. Conversely you can adjust canvas size (ALT+CTRL+C) on the original image and adjust it to fit. (For the record, mine was 3 pixels off somehow)
Step 5: Duplicate your layer and ighlight your new layer and select the "Create or Fill New Adjustment Layer" option at the bottom of the layer window. In the popup menu, select Color Balance (or Layer-->New Adjustment Layer-->Color Balance..). Select Midtones and these levels: +100 (red),0(green),-100(blue). Select the blend mode of this layer to "Lighten" and duplicate the layer.
Step 6: On the new layer (your third if you are still with me) change the blend mode to "linear burn". This, in and of itself, looks OK but lets do more. First, merge down. You should have something like this: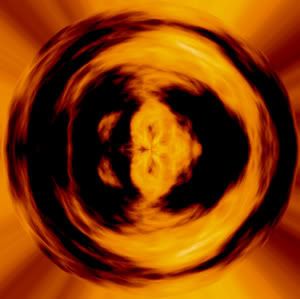 Now Select your layer blend mode to "Overlay" and go to Filter-->Distort-->Ocean Ripple. Go to Filter-->Distort-->Spherize(100% mode normal).
Duplicate layer (we do this a lot). Merge new layer down. I know what your thinking "Why the hell did I duplicate and merge down, same image, same thing right?" WRONG. Gives it more depth and richness and all you have to do is press ALT+CTRL+Z twice real quick to see the difference.