AFC West second-quarter checkpoint
MVP of the quarter:
Denver quarterback Peyton Manning. There is no doubt, and Manning is very much in the race to be the NFL MVP. He has been stunningly good for much of the season, and particularly so in the past four games. The Broncos went 3-1 in the quarter and lead the AFC West with a 5-3 record, due in large part to Manning's success. His lowest yardage outing in the past quarter-season was 291 yards. He has thrown a total of 12 touchdown passes (three in each game) and just three interceptions in the past four games.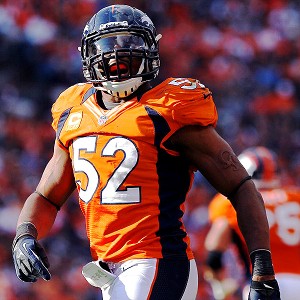 Strong second quarter of the season looks to have cemented Wesley Woodyard's starting LB spot.
Defensive player of the quarter:
Denver linebacker Wesley Woodyard. I was tempted to go with fellow Broncos linebacker Von Miller, who has six sacks in the past four games. But Woodyard has been tremendous in the past quarter. He has 49 tackles in that span, with 11 as his lowest single-game output -- remarkable for a player who was considered a liability going into the season. Now, with D.J. Williams set to return next week from a nine-game NFL suspension, there appears to be no doubt Woodyard will remain the starting weakside linebacker ahead of Williams.
Coach of the quarter:
Denver coach John Fox. His team went 3-1 in the second quarter and is alone in first place. His team has improved around Manning on both sides of the ball and is poised for a strong second half of the season.
For the rest of the awards and butt-hurt comments from jealous posters on other teams click here
:
http://espn.go.com/blog/afcwest/post...r-checkpoint-2